Table of Contents
Décentrale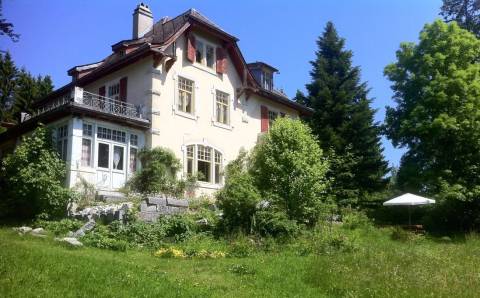 The Décentrale property on Mont-Soleil, Switzerland is a co-working space used by many projects that are self-organised through the Décentrale Synergiehub. The property is owned by the non-profit Permavillages association, administered by the Coopérative Décentrale.
At the heart of the 1 ha property, an old art-nouveau villa houses up to 24 people and provides workshop rooms, the kitchen and social living space. The surrounding park offers during summer additional shelter in the form of caravan, tipi and yurt.
Location and historic context
Mont-Soleil is a small hamlet at the edge of the Franche Montagne high-plateau in the Jura mountains of Switzerland. It is part of the community of St-Imier. Mont-Soleil is known in Switzerland for its educational eco-tourism offerings and as a show case for solar and wind energy technologies and installations as part of the Swiss Energy Park. It is at the heart of the Chasseral Nature Park.
The Décentrale is situated a 2 minutes walk from the Funiculaire cable railway, offering a 4 minute ride down to St-Imier, the small town 400 meters below in the valley, with its Espace Noir autonomous culture center, small commerce and access to the SBB-CFF Swiss railway network.
The location is also fitting in its historic context, since during the 19th century the anti-authoritarian or anarchist movement was particularly strong in this region. In 1872 the Fédération Jurassienne, which had strong support in Saint-Imier, organized a congress in Saint-Imier at which the Anti-authoritarian International Workingmen's Association or Anti-authoritarian International was founded. The Décentrale project was started out of a series of workshops in connection with the 2012 International Anarchism Gathering in commemoration of the 1872 conference of St-Imier.